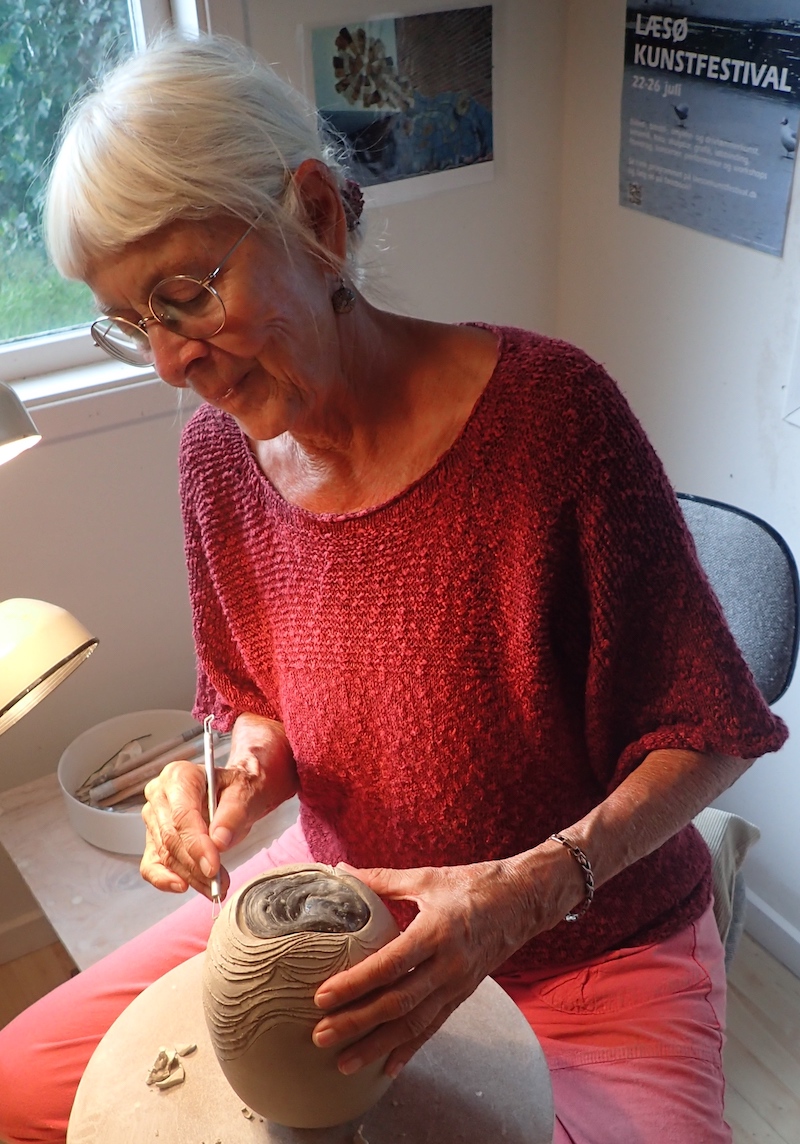 Kirsten Holm (b. 1946): Ceramist.
Kirsten Holm states that "Beauty - absolutely not to be confused with NEATNESS - is found everywhere, even in the perishable traces of nature. Time draws its own tracks".
Kirsten finds her inspiration in nature and this can be seen in her ceramic works, in her choice of materials, shape, expression, surface treatment and not least firing method. Kirsten often bases her art on findings from the sea, an eroded oyster shell, an intriguing rock or a petrified sea urchin. Kirsten rotates a mold, further processing it with modeling, tapping, cutting, scratching, embossing in the surface – thus evoking lines that flow down over the mold, as a continuation of the shell's design language.
Lise Seisbøll, former Director, Danish Ceramics Museum says:
"Ceramist Kirsten Holm creates objects, often of the shape of lid jars, that almost seem to grow out of the Danish coastal landscapes. She collects rocks, fossils and oyster shells and builds her ceramic shapes around these natural gifts, so that the results are fused units of pottery and beach findings. The artist shapes and executes her ceramic surfaces in such a way that they are connected to and further develop the patterns and structures found in the collected natural materials. To be able to do this, she has developed a true expertise in RAKU and MUFFEL burning. Kirsten Holm herself mixes glazes, coatings and terra sigillata to achieve the special shades she wants".
Kirsten Holm has participated in a large number of exhibitions at museums and galleries in a number of different countries and sold to i.a. Statens Kunstfond. She is represented at Keramikmuseum Berlin, at the Keramikmuseum of Denmark, Grimmerhus and in a number of private collections.
Member of: Danish Artisans. PROKK, professional artists. KKArt.