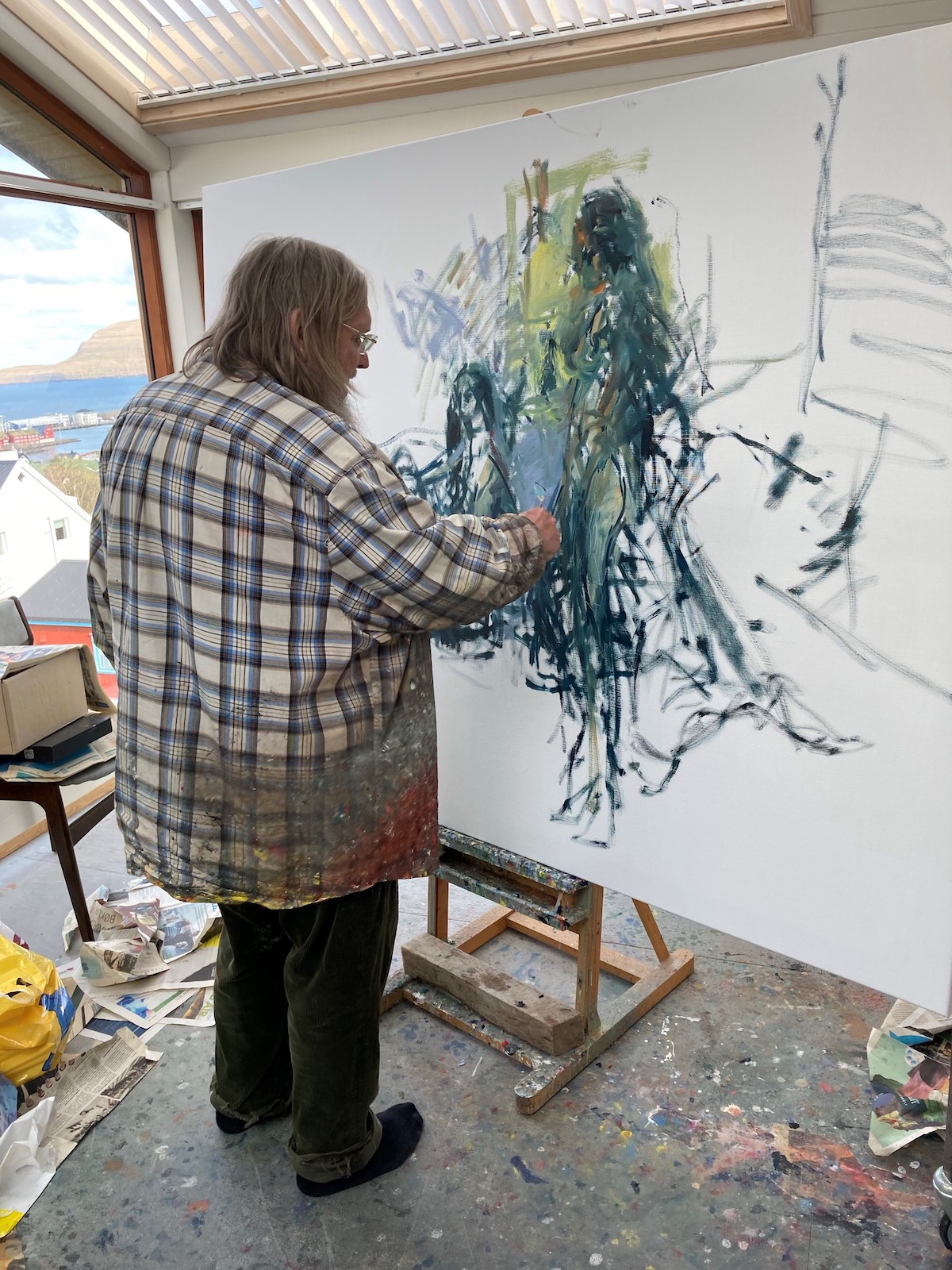 Torbjørn Olsen (b. 1956 in Tórshavn, Faroe Islands).
Torbjørn Olsen was educated in Copenhagen at Robert Askou-Jensen's drawing school at Glyptoteket 1972-74.
Barður Jákupsson writes about Torbjørn Olsen in the book "Færøernes Billedkunst" (Visual Art of the Faroe Islands) from the publisher ATLANTIA (excerpt):
"Torbjørn Olsen (1956) from Torshavn is the Faroese painter since Mikines who has mostly cultivated portrait painting. In the portrait paintings, Torbjørn Olsen shows an ability for empathy and characterization. Like most of his generation, Torbjørn Olsen paints landscapes, he especially cultivates urban environments, the crowds of colorful houses, the sharp many-angled edges of gables and roof surfaces, the marked surfaces of the fields, and the monumental contours of the cliffs are the basic motifs for a number of painters of this generation. But Torbjørn Olsen has followed his own line In landscape paintings and portraits from the 1970's. Strong colors are collected in narrow pastose brushstrokes on a white background and mark the drawing of the image. Later he has worked with color surfaces on dominant base colors and cultivated the intensity of the color in large forms. "
In addition, Torbjørn Olsen is known for decorating a number of churches. Among other things, he has decorated the churches in Haldórsvík, Miðvágur, Thorum, Øster Skerninge, Sunds and Snejbjerg.
Torbjørn Olsen has exhibited and is represented at art museums and in a number of private and public collections in the Nordic region. Torbjørn Olsen was honored with the Faroe Islands Culture Prize in 2014.